CURRENT TICKET HOLDERS FOR – LISA PIN UP 27TH NOV – LOCKDOWN BAR & GRILL
PLEASE READ!
The Lockdown Bar & Grill has Closed! They were selling the tickets for the event at The Lockdown bar & Grill - These tickets WILL NOT be valid at the new venue. Simply log in to eventbrite, go to your ticket for the event at The Lockdown Bar & click 'refund' - the reason being is the venue has closed down. Eventbrite are conducting an investigation and they will then in turn refund your tickets 🙂
IN THE MEANTIME if you want to still attend the event now at CLUB R&R you will have to rebuy your tickets for this venue here:
https://www.eventbrite.co.uk/e/hard-enegy-presents-lisa-pin-up-tickets-169847541569
Please spread the word to anyone you know who has already brought tickets.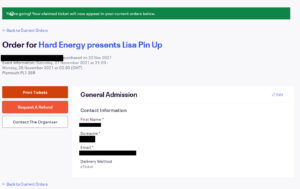 Thank you or understanding